The Mad Rudder
Edit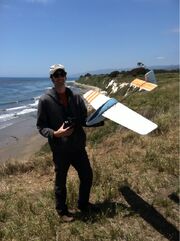 The Mad Elevator allows the pilot to fly back and forward flips... how about a Mad Rudder and a rudder (yaw) flip. 
This past summer we saw the first rudder flip. The glider was prototype called the "Aero-Glide." It is a collaboration between Michael Richter and Steve Lange.
The Aero-Glide has a fully symmetrical fuselage pod based on the Dream-Flight Alula fin. It uses a full flying horizontal stabilizer and full flying rudder each capable of 180* rotation, allowing it to do flips in both pitch and yaw. The stab and rudder are controlled by Henderson Pulleys.
The Aero-Glide also owes a deep inspiration to the ultralight aerobatics pioneering of Peter Richner, upon whose innovative ultralight construction techniques the UltraBatics movement was founded.
Initial impressions of the Aero-Glide are extremely positive: as shown, knife edge performance is excellent, and the core goal of the design, performing a rudder flip, is also successfully demonstrated. It's fast in light lift and very smooth… overall this is a great start!!