Swissing Your Wing
Edit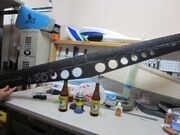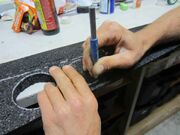 Here are some shots from Steve Lange's first ultralight "Swiss" Le Fish.
You can see that he traced out a series of graduated circles and then carefully cut them out using a sharp knife.
You can argue whether or not this small amount of weight loss will gain you anything in performance; but you have to admit that the swiss holes look cool. Take a look at the slideshow below ... major swissing!